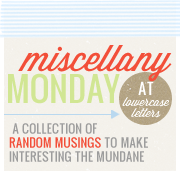 1.
I need to become a better cook!
Hubby asked if the lasagna we had for dinner was homemade. I was tempted to lie and say yes. It was from a bag. I really need to try some new recipes. We eat the same stuff over and over and over.
2.
Oh the joy of two boys!
Trying to put my 6 month old to sleep with a 2year old running around is nearly impossible.
3.
I'm Jealous!
My boys have such pretty hair and eyelashes. Even my DH (Dear Husband) has nice long eyelashes. I"m jealous! What are they ever going to do with pretty hair and long lashes. It's not fair, lol.
4.
Keepin' up with the Joneses
I want a bigger house. Our house is nice and in a decent location but I want more space. Or do I need less stuff!?!
5.
I love Christmas!
I'm am sooooo looking forward to Christmas with 2 little ones. I'm already planning!
6.
I need to find a new doctor.
My current primary care physician is always pushing diet shakes and supplements. I don't want to deal with pushy sales people during an exam